By Georgia Thelen
Staff Writer
Meguiar's Detroit Autorama, the "real auto show", will return to the Cobo Center Feb. 24 through Feb. 26 and will also be showcasing two cars owned by Lake Orion resident's.
Paul Borror of Lake Orion will be taking his red 1965 Shelby Cobra and Lake Orion resident Douglas Broquet will take his black 1933 Ford 3 window coupe.
With over 800 hot rods, custom cars, trucks and motorcycles from around the world showcased at the 65th Annual Autorama, this is an event that car enthusiasts, gear heads and hot rod lovers will not want to miss. In honor of the special Autorama anniversary, there will also be a showcase of the 20 most famous cars ever shown at Autorama including the Batmobile, The Little Deuce Couple, The Zingers and several more.
"It is so exciting to be celebrating the 65th Anniversary of Detroit Autorama and we thought there was no better way to mark the occasion than to hold a reunion of the most famous cars ever seen at Autorama, together in one place and at one time. This is a once in a lifetime Autorama experience," said Peter A. Toundas, President and Owner of Championship Auto Shows Inc., producers of Autorama. "We are always striving to bring new excitement to Autorama along with the most spectacular showing of performance cars anywhere in the country. And, at the same time, we want to celebrate the history that made Autorama America's Greatest Hot Rod Show."
Paul Borror will be bringing his Shelby Cobra to the special anniversary event and says he enjoys attending Autorama every year.
"I just enjoy going and that car, the Cobra, has so many memories for so many people. I have great conversations with people," said Borror.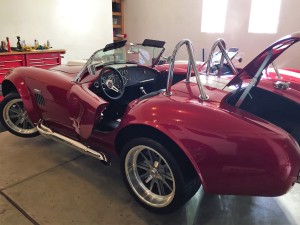 Borror's current Cobra is the third replica he has built thus far. Borror said he tries to put a different spin on every Cobra he's built, his newest one including a 2015 Coyote engine out of a Mustang GT. The engine is fully computerized and fuel injected.
Borror says his replica took about a year to build after receiving the chassis from Massachusetts based company Factory Five, one of the largest kit car manufacturers in the world.
"People are always interested to see them in person, I think people are asking themselves if they can do something like that themselves," said Borror regarding the building of a replica car.
Borror is also a member of the Great Lakes Cobra Club which has over 100 members in southeast Michigan and Ohio. The club plans on having an unveiling of sorts at this years Autorama as dozens of members are going to bring their shiny Cobras to the show.
This year's Autorama will have several special features including a special display of "Orphan Vehicles", rare one-of-a-kind vehicles from around the world. There will also be a live outdoor opening event, the Hazzard County Stunt Show, which will feature a flying General Lee who will wake up downtown Detroit with its revving motor.
There will also be several celebrity appearances throughout the weekend that will also be meeting and greeting with attendees to sign autographs. WWE Superstar AJ Styles will be attending Feb. 24 from 6 to 9 p.m. Danny "The Count" Koker from the hit show "Counting Cars" and his band "Count's 77" will perform Feb. 25 at 5 p.m. Rick Harrison from "Pawn Stars" and Skai Jackson from Disney's "Bunk'd and Jessie" will both be in attendance on Feb. 26 from 1 to 5 p.m.
Tickets will be available at the gate of the event for $20 for adults, $7 for children 6 to 12, and free for children 5 and under. Discount tickets are available at locations of O'Reilly Auto Parts.
Event hours are Feb. 24 noon to 10 p.m., Feb. 25 9 a.m. to 10 p.m. and Feb. 26 10 a.m. to 7 p.m. The Cobo Center is located at 1 Washington Boulevard in Detroit.
For more information, visit autorama.com or call 248-373-1700.